Forty names, games, teams and minutiae making news in college football, where a running back who maintains pitch relationship 30 yards downfield is a friend indeed:
Exactly how we drew it up 😂 #SCtop10 @jasonbean24 and @DeuceHishaw run the option to perfection (kind of) for a combined 45-yard TD!!! pic.twitter.com/72D5zFi6L1

— Kansas Football (@KU_Football) September 30, 2023
First Quarter: First Month Awards | Second Quarter: Struggling Powers
Third Quarter: Four Unexpected Big Games, One Eternal Big Game
From a preseason perspective, the upcoming weekend didn't look like much: Red River and a bunch of meh. But the beauty of a college football season is the unexpected twists and turns along the way—the teams that fall off the map and those that appear on it without much warning. And so we take the first look at an Oct. 7 that now features four matchups of AP-ranked teams, and probably should be five (where is the love for Maryland?). The only downside is that the games are clustered early and late, as opposed to spread out throughout the day.
A quick Dash breakdown of the five games—what's at stake, who are the breakout stars and who wins.
No. 3 Texas vs. No. 12 Oklahoma (21) in Dallas.
When: 12 p.m. ET
What channel: ABC
Who is undefeated: Both teams
What's on the line: A whole lot. College Football Playoff positioning; first place in the Big 12; potential Heisman Trophy ramifications for the winning quarterback; hero status for Steve Sarkisian; validation for Brent Venables; State Fair supremacy and the chance for the winning fans to rule the streets of Dallas on Saturday night.
Best matchup: Sooners quarterback Dillon Gabriel, who leads the Big 12 in pass efficiency and yards per game, against a Texas defense that also leads the Big 12 in fewest aerial yards allowed.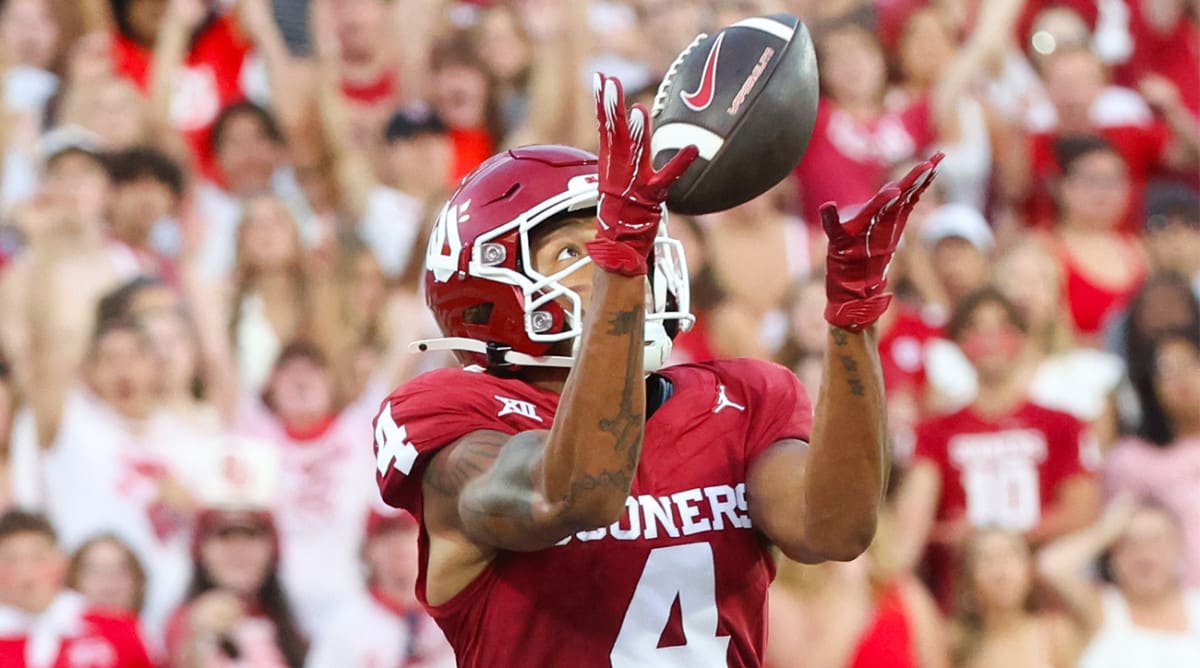 Shine the spotlight on: Nic Anderson (22), Oklahoma wide receiver. The redshirt freshman has emerged as a dazzling deep threat, with five touchdowns in the Sooners' past three games on just eight catches. He has had TD grabs of 28, 39, 42 and 50 yards in that span, and is averaging 27.9 yards per reception. At 6'4" and 207 pounds, he is a tough physical matchup who can go over or run by defensive backs.
Dash pick: Texas 34, Oklahoma 27. This is by far the best competition the Sooners have faced this season. If it's a measuring stick for their improvement year-over-year, well, they're making strides. But the Longhorns are still better.
No. 20 Kentucky at No. 1 Georgia (23).
When: 7 p.m. ET
What channel: ESPN
Who is undefeated: Both teams
What's on the line: Georgia's 22-game overall winning streak and 22-game home winning streak; its year-plus status as the No. 1 team in the polls; Kentucky's 13-year losing streak to the Bulldogs; first place in the SEC East; CFP implications.
Best matchup: Kentucky's running game leads the SEC in yards per carry at 6.48, which also ranks second nationally. Georgia's run defense, famously stout under Kirby Smart, just allowed 219 rushing yards to Auburn, the most on the Bulldogs in five years.
Shine the spotlight on: Ray Davis (24), Kentucky running back. The Vanderbilt transfer has been good all season (451 yards from scrimmage the first four games) but exploded into greatness Saturday against Florida (280 rushing yards, four total touchdowns).
Dash pick: Georgia 24, Kentucky 19. Chalk up another close call for the Bulldogs, who have beaten South Carolina and Auburn by a combined 17 points and trailed in both games for more time than they led. But Brock Bowers, Sanford Stadium noise and enough defensive playmakers (an SEC-leading eight interceptions) keep Georgia unbeaten.
No. 10 Notre Dame at No. 25 Louisville (25).
When: 7:30 p.m. ET
What channel: ABC
Spread: Notre Dame by 6.5
Who is undefeated: Louisville
What's on the line: CFP viability for both teams; a potential recruiting springboard for first-year Louisville coach Jeff Brohm; Notre Dame is attempting to beat ranked teams on the road in consecutive weeks for the first time since 2005.
Best matchup: Louisville's big-play offense against Notre Dame's buttoned-up defense. The Cardinals are second nationally in scrimmage plays of 30 yards or more (22) and are tied for first nationally in plays of 40 yards or more (12). They're averaging 7.47 yards per play, 10th nationally. The Fighting Irish have kept the lid on defensively, giving up just two plays of 40 yards or longer.
Shine the spotlight on: Jamari Thrash (26), Louisville wide receiver. Last week, North Carolina State became the first team this season to keep Thrash out of the end zone. The Georgia State transfer has scored six touchdowns and is averaging 20.2 yards per reception, the latest in a long line of receivers to excel in the Brohm offense.
Dash pick: Notre Dame 35, Louisville 28. This is the third straight game for the Fighting Irish against an undefeated opponent, and USC could be the fourth straight next week. The first two were brawls that went to the wire, so it's fair to wonder whether Notre Dame might be a little tapped out physically. But if not, the Cardinals could have a tough time matching up in the trenches in this one.
No. 23 LSU at No. 21 Missouri (27).
When: 12 p.m. ET
What channel: ESPN
Who is undefeated: Missouri
What's on the line: LSU is trying to prevent a full-on tailspin; Missouri is trying to maintain a tie for first in the SEC East while seeing how far it can extend this undefeated start. (Mizzou hasn't been 6–0 since 2013, when it won the East.)
Best matchup: LSU's third-down offense against Missouri's third-down defense. The Tigers (Bayou version) lead the SEC in converting on third down, at 57.6%. That's largely thanks to dual-threat quarterback Jayden Daniels and his excellent receivers. The Tigers (Midwest version) have allowed only nine successful conversions out of 33 attempts the past three games.
Shine the spotlight on: Luther Burden III (28), Missouri wide receiver. He was the No. 1 receiver in the country coming out of high school in 2022, had a modest freshman season and now is blowing up. Burden leads the nation in receiving yards with 644 and has a live streak of four straight 100-yard receiving games—numbers that should worry a porous LSU pass defense. He's also a dangerous punt returner.
Dash pick: LSU 44, Missouri 35. As bad as LSU's defense is, the Tigers (Bayou version) do at least have Daniels playing at a ridiculously high level. Brady Cook has played well for Mizzou this season, setting the SEC record for passes without an interception, but he's not going to be able to match big plays with Daniels.
Maryland at No. 4 Ohio State (29).
When: 12 p.m. ET
What channel: Fox
Spread: Ohio State by 19.5
Who is undefeated: Both teams
What's on the line: Winner stays unbeaten in the brutal Big Ten East; CFP implications; Ohio State's all-time 8–0 record in the series; Maryland's combined 14-game losing streak to Michigan and Ohio State.
Best matchup: The No. 2 passing offense in the Big Ten (Maryland) against the No. 2 passing defense in the league (Ohio State). The Terrapins have aired it out frequently and efficiently, averaging 36 pass attempts per game and 8.3 yards per attempt, with 13 touchdowns and three interceptions. Despite dropping back that many times, the Terps have allowed just three sacks. The Buckeyes, meanwhile, have given up only two touchdown passes and 5.4 yards per attempt. There will be some key battles on the outside between Maryland receivers and Ohio State defensive backs.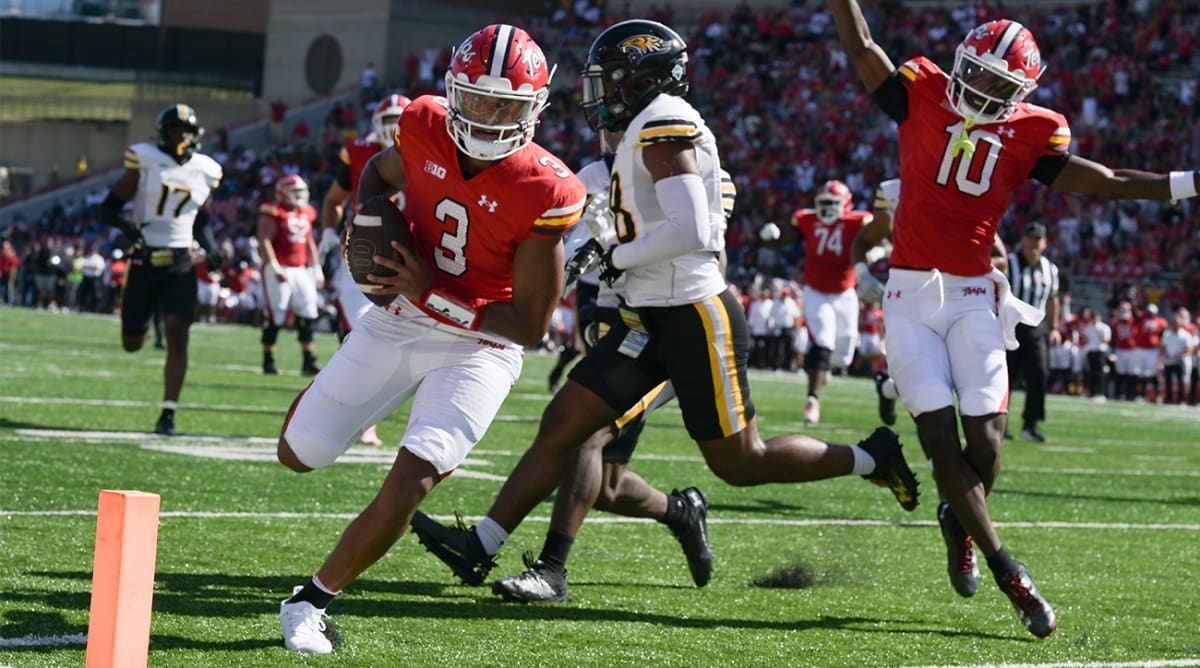 Shine the spotlight on: Taulia Tagovailoa (30), Maryland quarterback. Tua's little brother has had an excellent college career, and right now he's at the top of his game—he just lit up Indiana for 352 passing yards and five touchdowns with no interceptions. In years past he has been beaten up as the season wears on, but up to this point the Terps have done a nice job keeping him clean in the pocket.
Dash pick: Ohio State 40, Maryland 31. The Buckeyes had a week to rest up after the slugfest at Notre Dame, which will prove valuable. But the Terps should be able to move the ball and score enough to keep the home crowd uncomfortable most of the afternoon.
First Quarter: First Month Awards | Second Quarter: Struggling Powers