GlobeNewswire
Mobilicom Secures Initial Order from One of Europe's Largest Defense Contractors

News provided by
Mobilicom Limited
Sep 19, 2023, 7:00 AM ET
Mobilicom's ground control and mesh networking technology to be used for ground vehicle & drone joint swarm operations
Shoham, Israel, Sept. 19, 2023 (GLOBE NEWSWIRE) -- Mobilicom Limited (Mobilicom or the Company, NASDAQ: MOB, MOBBW; ASX: MOB), a provider of cybersecurity and robust solutions for drones and robotics, today announced an initial purchase order for two of its products from a new customer, one of the largest defense contractors in Europe.
The customer is integrating Mobilicom's Mobile Ground Control Station and MCU Mesh networking into a paired, networked ground vehicle and drone system. The remote controller for the drone is housed inside the ground vehicle and can be moved outside of the vehicle by an operator who commands the drone. The key asset is the mesh networking capability which may be expanded to support multiple drones in a swarm operation whereby numerous drones can independently make decisions based on shared data via Mobilicom's secured Mesh Networking.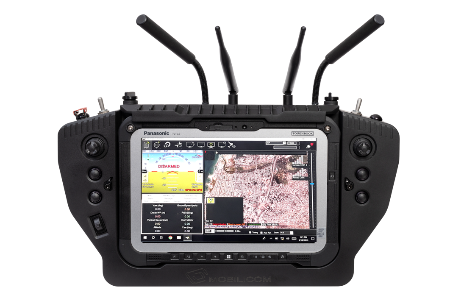 "Our new customer is one of the top names in European defense contracting. Europe is an evolving market in which we are seeing increasing traction with our end-to-end offering. NATO countries have increased their defense budgets significantly in response to the Ukraine-Russia conflict, where drones have proven to be a game-changer in the war. The demand for and use of drones is expected to rise sharply in the next few years and Mobilicom is well positioned as a leading provider of field-proven, cybersecure technologies," stated Mobilicom CEO Oren Elkayam.
About Mobilicom
Mobilicom is an end-to-end provider of cybersecurity and robust solutions for drones and robotics focussing primarily on targeting global drone, robotics and autonomous system manufacturers.
The Company holds patented technology & unique know-how for Mobile Mesh networking. It has a large, field proven portfolio of commercialised products used in a variety of applications.
Mobilicom is growing a global customer base with sales to high profile customers including corporates, governments and military. Mobilicom's competitive advantages include outstanding security capabilities and performance in harsh environmental conditions.
Mobilicom's large solution portfolio is being deployed worldwide, and the Company derives revenue from hardware, software sales & licensing fees and professional support services.
For investors, please use https://ir.mobilicom.com/
For company, please use www.mobilicom.com
Forward Looking Statements
This press release contains "forward-looking statements" that are subject to substantial risks and uncertainties. For example, the Company is using forward-looking statements when it discusses the rising demand for drones and the Company's position as a market leader. All statements, other than statements of historical fact, contained in this press release are forward-looking statements. Forward-looking statements contained in this press release may be identified by the use of words such as "anticipate," "believe," "contemplate," "could," "estimate," "expect," "intend," "seek," "may," "might," "plan," "potential," "predict," "project," "target," "aim," "should," "will" "would," or the negative of these words or other similar expressions, although not all forward-looking statements contain these words. Forward-looking statements are based on Mobilicom Limited's current expectations and are subject to inherent uncertainties, risks and assumptions that are difficult to predict. Further, certain forward-looking statements are based on assumptions as to future events that may not prove to be accurate. These and other risks and uncertainties are described more fully in the Company's filings with the Securities and Exchange Commission. Forward-looking statements contained in this announcement are made as of this date, and Mobilicom Limited undertakes no duty to update such information except as required under applicable law.
For more information on Mobilicom, please contact:
Liad Gelfer
Mobilicom Ltd
liad.gelfer@mobilicom.com


NOTE: This content is not written by or endorsed by "WIAT", its advertisers, or Nexstar Media Inc.
For inquiries or corrections to Press Releases, please reach out to GlobeNewswire.